INSPECTIS Digital Microscopes
INSPECTIS Digital Microscopes
Configurable, Ergonomic Optical Inspection Systems
Designed for ergonomic use
INSPECTIS digital microscopes provide relief to eyes, neck and shoulders through the unique ergonomic design and minimum 230 mm free working distance. By allowing operators to sit comfortably in a good working position, their inspection tasks can be carried out more efficiently.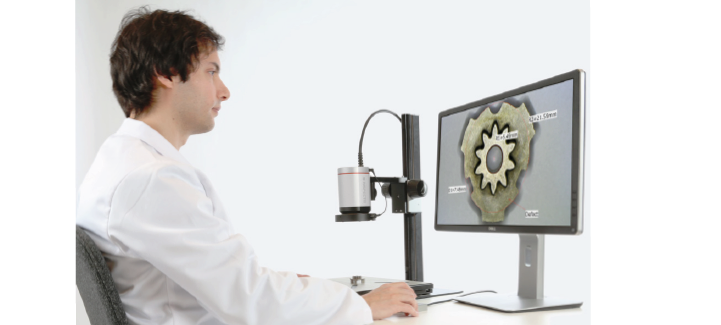 The INSPECTIS Microscopes are available in two basic models. All-in one, plug-and-play systems with integrated stand and built-in white LED illumination and modular systems configurable with different stands, illuminations, lenses and image capture options.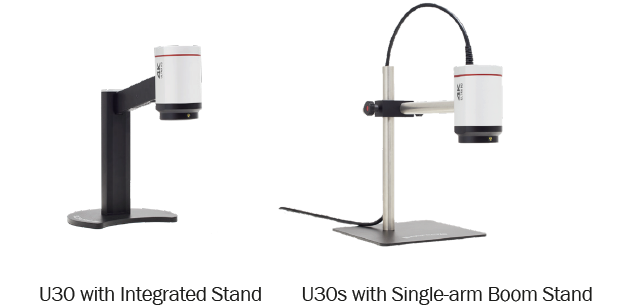 Thanks to their large aperture high-resolution optics and sensitive image sensors, INSPECTIS digital microscopes provide excellent image of finely detailed objects, especially micro mechanics, metal stents, ceramic, glass and plastic parts, solder joints on PCBs, and reflective metallic parts.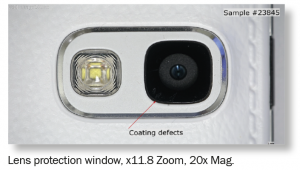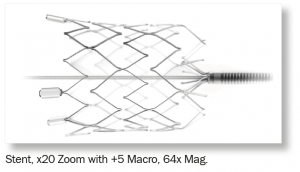 Optimised for inspection of fine details
The system's standard optics produces ~ 1.9 – 56x magnification (on 24" monitor). If further magnification is needed, a wide range of diopter Macro Lenses can be added to magnify up to 170x. INSPECTIS U30s and F30s modular microscopes can easily be deployed as in-line optical inspections systems in commonly used industrial racks.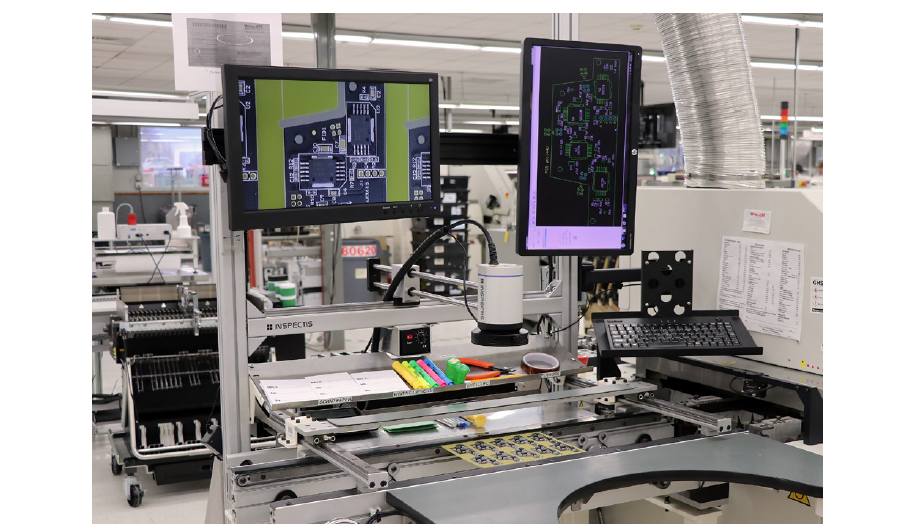 INSPECTIS s-type modular Microscopes are totally configurable with a variety of mounting solutions, illuminations and stages.

With INSPECTIS software you gain access to automatic focus stacking, interval overlay display, automatic lens distortion correction, automatic calibration tracking and powerful metrology tools in your computer.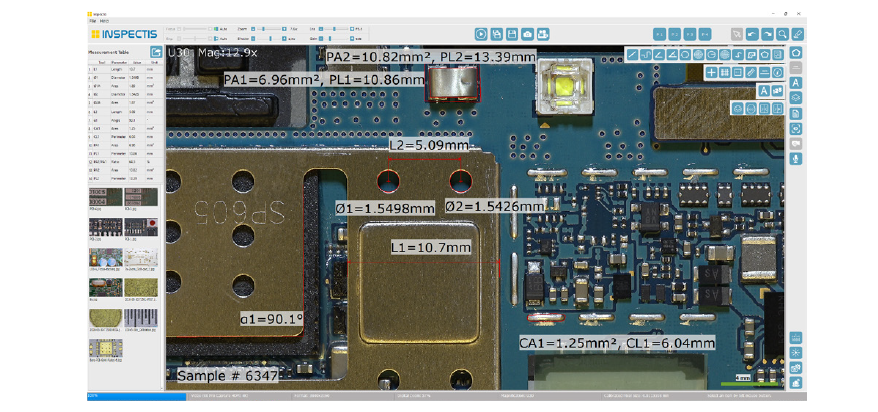 Making optical inspection enjoyable
INSPECTIS digital microscopes offer true ease of use with minimal interaction needed with controls and settings. All basic parameters such as zoom, brightness and colour levels can be controlled by the user through on-board buttons on top of the device.
When required, the "advanced push-switch", "knob-drive" or "PC-soft" remote control options allows the excellence of the imaging system to be exploited further.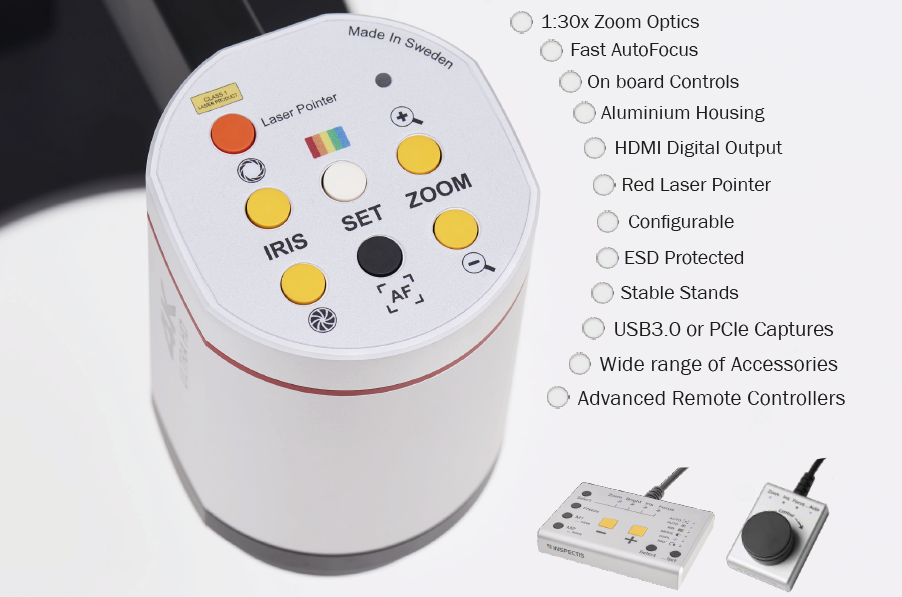 F30
F30s
U30
U30s
Resolution
FULL HD
FULL HD
4K
4K
Product number
HD-012
HD-013-KIT-CAP
HD-015
HD-016-KIT-ADV
Structure
All-in-One System with Integrated Stand and Built-in LED Light

(FHD Monitor to be ordered)

Full HD performance with Boom Stand, Flexible Matrix Light, Digital Image&Video Capture and 22" LCD Monitor
All-in-One System with Integrated Stand and Built-in LED Light(4K Monitor to be ordered)
4K performance with RingLight Track Stand, XY-board, extra +10 diopter and INSPECTIS ProX Utility/Metrology Software
Video output
1080p 60fps
2160p 30 fps, switchable to 1080p 60fps
Interface
HDMI
HDMI
Resolution
1920×1080 pixels (2 Mp)
3840×2160 pixels (8 Mp), switchable to 1920×1080 pixels
Lens system
30:1 zoom, Autofocus
30:1 zoom, Autofocus
Working distance
Fixed, 230mm
Adjustable, 60-228mm
Fixed, 230mm
Adjustable, 60-228mm
Mag.* (standard optics)
~ 1.9x ~ 56x
~ 1.7x ~ 52x
Mag.* (with extra diopter)
~ 5.7x ~ 170x (with +10)
~ 5.6x ~ 168x (with +10)
F.o.V. (standard optics)
~ 9.3 – 270 mm (H)
~ 10 – 301 mm (H)
F.o.V. (with extra diopter)
~ 3.1 – 93 mm (H) (with +10)
~ 3.2 – 96 mm (H) (with +10)
Controls
On-board, Remote, PC
On-board, Remote, PC
Illumination
Integrated LED Light
Single-Spot LED matrix light
Integrated LED Light
Ring Light with dimmer
Stand
Integrated
Single-arm Boom
Integrated
Track, Large base with focusing
Monitor
Full HD 22"or 24" (optional)
Full HD 12"or 22"or 24"
Ultra HD (4k) 24"or 28" (optional)
Image capture
External USB Capture or

PC software (optional)

External USB Capture
External USB Capture or

PC software (optional)

PCIe Capture with

Inspectis ProX PC software
* Magnification is on screen, displayed on 24" monitor.
All products are available with Antistatic Housing and Laser Pointer options.
Extended Working Distance versions 500 mm and 1000 mm are available.